Mission Statement
For You Who Create "A New Era of Pharmacists"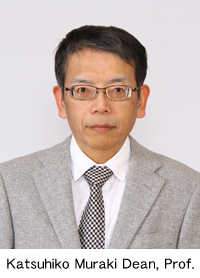 In April 2012, the pharmacists who received the six-year education program in pharmacy went into the world, marking the start of a new era of pharmacists here in Japan. Currently, standing on the verge of the age of an extremely low birthrate and an aging population, we witness the increasing social expectations for pharmacists to proactively apply their professional occupational abilities as providers of medical care in a wide variety of occupations.
Especially, the roles of pharmacists will become increasingly important from now in wider fields including advancement of effective and safe drug treatment, promotion of community healthcare including home healthcare, creation of excellent pharmaceuticals, contribution to health enhancement and self-medication, and contribution to local communities.
At the School of Pharmacy of Aichi Gakuin University, based on our school philosophy "Unity of Learning and Practice and "A Sense of Gratitude towards All Life in the World," we set our "Education Philosophy and Goal" as follows: "We develop the specialists in medical pharmacy who actively contribute to the health maintenance of people and to the development of medical care while considering medical care as a place for collaboration and who open the way to the future through co-creation." Specifically, we aim to develop the pharmacists equipped with a rich and humane personality and a high ethical standpoint as medical persons, well-versed in comprehensive knowledge of pharmaceuticals built on the scientific base of pharmacy, and further having a high level of wide-ranging occupational abilities to secure appropriate use and safety of pharmaceuticals, to provide accurate pharmaceutical information, and to guide drug administration.
At the School of Pharmacy, the freshpersons study liberal arts at Nisshin Campus and major subjects at Kusumoto Campus. They acquire liberal arts education and knowledge required to be a member of society, develop the ability to adapt to changes in society and the ability to make comprehensive judgments, and nurture a motivation for and intellectual curiosity about pharmaceutical education through introductory education including basic pharmaceutical education, medical ethics education, and early on-site training. From the second grade on, in the professional education course at Kusumoto Campus, the students receive lectures of pharmaceutical, medical, and nursing subjects to acquire knowledge about basic and clinical pharmacy, and undertake practical training and exercises to cultivate the abilities to find problems and solve issues. In the fifth grade, the students acquire the skills, attitudes, and communication techniques essential to pharmacists at clinical sites including pharmaceutical departments of hospitals and health insurance pharmacies so that they can play their roles as a member of a medical team. Furthermore, in the fourth to sixth grades, the students are assigned to individual courses and perform fulfilling graduation research under the supervision of academics. This aims to develop high-quality pharmacists as providers of medical care and to foster human resources equipped with "scientific analytical ability and thinking power" and "spirit of inquiry." In addition, the Graduate School of Pharmacy (four-year doctoral program) is established to develop researchers having higher expertise in basic pharmacy and medical pharmacy. The Research Institute of Medical Biological Pharmacy is also set up to contribute to enhancing health and improving medical care by performing pioneering project research related to medical care and life.
In this manner, the School of Pharmacy of Aichi Gakuin University provides well-developed education content and study environment. We hope you actively work on your studies with a strong motivation while bearing six years of campus life in mind, and lead a fulfilling campus life to acquire the abilities to survive in society, including rich education and humane personality, creative abilities, ability to adapt to society, and abilities to find problems and solve issues, in addition to high expertise.